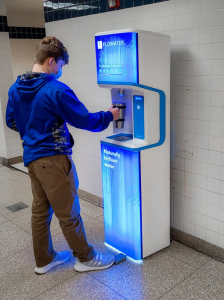 FloWater Touchless Refill Station
Overview
Our Refill Station technology transforms tap water into the world's best-tasting, most purified water, that's delivered on-demand and eliminates the use of plastic bottles.
Details
The World's only 7x Purification System
Alkalized and Oxygenated
'No Touch' Recessed Dispenser
Height: 68 inches | Width: 18 inches | Depth: 16 inches
For More Details Call: (973) 992-1900
Or submit a request for a quote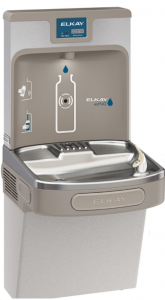 Elkay Enhanced ezH2O
Overview
Elkay filtered ezH2O bottle filling stations reduce lead and other harmful contaminants, putting cleaner, healthier water within everyone's reach. We continue to expand our ezH2O bottle filling station offerings. This innovative and award-winning product line upholds our commitment to delivering clean water and sustainable design. It provides a rapid fill of drinking water to quench thirst and minimize plastic bottle waste in the environment.
Details
Hands-Free
Real Drain
Clean Water Within Reach
Anti Microbial Protection
Call 973.992.1900 for more information on our company or Aqua Fresca bottle less water coolers or to start your free trial today! Serving NJ and NY – Local technicians for quick maintenance and service
Aqua Fresca provides hassle free, all inclusive, touchless, bottleless water coolers and dispensers to offices, businesses, organizations and buildings in the New Jersey and New York region. We offer full installation, maintenance and service designed with customer satisfaction as a number one priority.