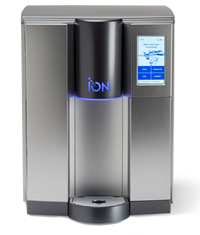 AFI-S Sparkling Water System
Overview
Introducing the AFI-S, the exciting new alternative to bottled water and soft drinks. Pure water refreshment at the touch of a button. Quench your thirst with a variety of healthy beverages—icy cold still water, piping hot water to warm you on cold days, or the bubbly effervescence of sparkling water.
Details
Height = 16.2 inches
Width = 13.6 inches
Depth = 20.6 inches
Cold Water Capacity = 8 GPH
Hot Water Capacity = 2 GPH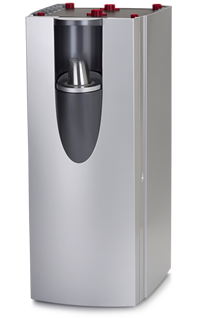 AquaStand
Overview
AquaStand quickly converts the AFI-S from a counter-top to a stand-alone appliance, easily adapting to a multitude of spaces. With simple access to an electrical outlet
and water line, AquaStand gives you the freedom and convenience to enjoy pure refreshment when and wherever you want. Easy to install and ADA compliant, AquaStand makes storage a snap. With five cubic feet of interior storage space, AquaStand can hold everything from extra cups, CO2 Tanks, and filters, to office and kitchen supplies.
Details
Height = 37 inches
Width = 14 inches
Depth = 20 inches
Total Height with AFI-S = 53.2 inches
Call 973.992.1900 for more information on our company or Aqua Fresca bottle less water coolers or to start your free trial today! Serving NJ and NY – Local technicians for quick maintenance and service
Aqua Fresca provides hassle free, all inclusive, touchless, bottleless water coolers and dispensers to offices, businesses, organizations and buildings in the New Jersey and New York region. We offer full installation, maintenance and service designed with customer satisfaction as a number one priority.